You like to sing?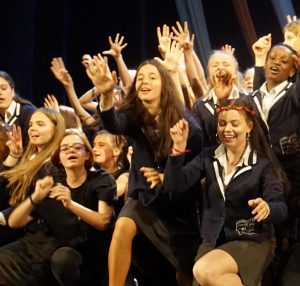 Singing is a girl's thing? Nonsense! There are great girl choirs and just as good boy choirs. But we at CANTEMUS KINDERCHOR don't want to be either of them, we want to be: a children's choir! Everyone can join in, and the many voices of boys and girls distinguish our sound. Children between the ages of 4 and 18 sing in the CANTEMUS KINDERCHOR. To become really good, the boys and girls have to be diligent. Therefore we rehearse every week in different age groups. Whether folk or children's songs, Christmas mass or church chant, whether music from the Romantic period, the Middle Ages or today – we sing our way through the history of music in different age groups.
Would you like to drop by?
The choir changes constantly, for example when the big ones finish school and leave the choir, or when little singers move in. You can join at any age without a waiting list!
By the way: In the CANTEMUS KINDERCHOR we not only have joint rehearsals, but from a certain age we also have individual voice training with an experienced voice trainer. So you can develop your voice individually. Have you become curious? Then visit us once, 50 cheerful boys and girls are looking forward to making music together with you, arrange an audition!
Information about the office of the choir school: +49 40 37517170
We are happy to answer your questions!
© Hamburg Children's Choir Cantemus